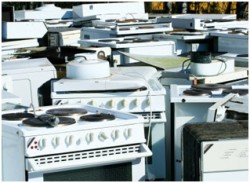 Trash removal may seem like a simple task, but some projects, such as appliance disposal or a real-estate cleanout, pose a variety of obstacles. Special considerations and resources may be required in order to avoid fines or property damage. Luckily, property owners in the Augusta, Georgia, area who are faced with large-scale trash removal tasks have a solution: R&R Dumpster & Roll-Off Service, Inc.
Our dumpster service is the perfect way to remove trash of all varieties, even asbestos, tires, and other hazardous materials that other garbage removal companies are not equipped to handle.* While every job poses its own set of challenges, our dedication to efficient workmanship and comprehensive customer care never wavers. Our goal is to help you simplify your project and make it easier for you to create a clean, safe space. Whether you're in the midst of a transition such as a renovation or you simply want to remove trash that has accumulated in sheds and closets, R&R Dumpster & Roll-Off Service, Inc. can help. Call or email us today for a free estimate or to get same-day dumpster delivery!
Roll-Off Dumpsters for Any Garbage Removal Project
Our customers are able to choose between short-term dumpster rental and a dump-and-replace service for larger, longer-term jobs. Regardless of your particular needs and demands, you will receive speedy service from trash haulers who will drop off and pick up your dumpster right on time and ensure that your project is a success. Get the backup you need for easy, cost-effective trash removal: Pick up the phone and call the R&R Dumpster & Roll-Off Service, Inc. team today.
Our dumpster rentals are perfect for:
Estate cleanouts
Rental property cleanouts
Spring cleaning
Move in/out cleaning
Furniture disposal
Appliance disposal
Remodeling
And more!
Our trash haulers have more than 15 years of experience and are able to offer clients what so many companies cannot: the benefit of workers who are genuinely concerned with customer satisfaction and who take pride in their work. Home- and business owners local to Augusta and the CSRA should contact us by email or phone for professional, prompt trash removal services.
Foreclosure Cleanouts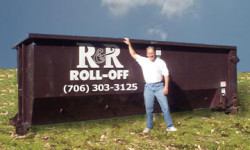 Foreclosure is a difficult process, and as a result of hasty departures and other mitigating circumstances, many of these properties are left a real mess when the former owners have moved out. If you're trying to get a foreclosed property ready to go on the market, don't just take one look at that mess and then run in the other direction!
Enlist the help of R&R Dumpster & Roll-Off Service, Inc. instead. We will make the process easier by providing you with safe, sturdy dumpsters and same-day service.  We can take anything, from appliance and furniture disposal to assorted junk removal services. Your affordable solution for assistance with foreclosure cleanouts and garbage removal, R&R Dumpster & Roll-Off Service, Inc. can turn even a disaster into a marketable property faster than you thought possible.
*We do not provide trash removal for dirt or concrete materials at this time.