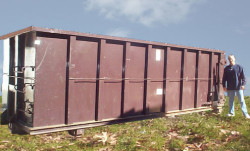 Professional junk hauling makes disposing of bulky items quick and easy. If your junk removal needs are too large to be taken care of by your regular waste collector, contact R&R Dumpster & Roll-Off Service, Inc. today. Whether you need to dispose of an old couch, a refrigerator, or an entire estate's worth of junk, you will enjoy professional, honest dumpster service with an emphasis on quality customer care.
Property owners from all throughout the Augusta area have already taken advantage of our convenient, affordable roll-off dumpsters. Become our next satisfied customer by calling or emailing us to schedule a rental at your earliest convenience. We can provide same-day service in many cases. Our dumpsters and junk hauling services can help you experience the full potential of your space and enjoy a productive, safe living and working environment.
Junk Removal Services Supported by Dumpsters
There are numerous reasons why it is a better idea to use our dumpsters for your junk removal service rather than doing the job all by yourself. People who choose to hire our junk hauling business enjoy:
Savings—Throwing things away can actually be very costly. In order to safely and legally dispose of copious amounts of junk, in most cases, you would have to make multiple trips to the transfer station, which could cost a fortune in gas with today's prices! On top of the transportation costs, steep dumping fees may also apply. People who do not properly dispose of their trash can also be stuck with huge fines, which can wind up costing you many times the amount that you would have paid if you simply rented a dumpster and hired a junk removal service in the first place. R&R Dumpster & Roll-Off Service, Inc. can spare you these hidden costs, all for one affordable price. Contact us for a free estimate on your roll-off container and junk hauling project today.
Hassle-free results—No one wants to dedicate their precious Saturdays to hauling junk back and forth to the dump. Luckily, you don't have to—R&R Dumpster & Roll-Off Service, Inc. can help you say goodbye to unwanted garbage with a reliable dumpster rental that you can fill up at your own pace. This is not only incredibly convenient, but it also spares you the risk of physical injury and ensures that your trash disposal is completed fast.
Property preservation—Too many times, dumpsters rented for junk haul projects result in gouges being taken out of driveways and curbs. Our junk hauling business cares about preserving your property and will go to great lengths to prevent harm from coming to your pavement. After all, our dumpsters are meant to make your project easier, not cause any more problems! For professionals who will treat your property with respect, call R&R Dumpster & Roll-Off Service, Inc. right away.
When you bring in our dumpsters for your junk removal service, we take a comprehensive approach to providing you with the best service. There is no junk haul job too small or large for our roll-off containers, so whether you require single appliance disposal or need your entire office building cleared out, R&R Dumpster & Roll-Off Service is here to help. We are also trained in the safe removal and disposal of items that other junk hauling service providers will not take, such as loads of tires.
Our junk removal service is ideal for a variety of situations, including spring cleaning, real estate cleanouts, renovations, and more. Contact us today to learn more about our dumpster rental policies and procedures. One of our friendly pros will be more than happy to help you by answering any questions you may have. We're ready to put our more than 15 years in the junk hauling business to work for you!
R&R Dumpster & Roll-Off Service, Inc. does not haul concrete or dirt at this time.