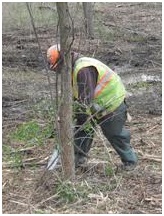 Renovation and building projects are exciting, but they can also make a big mess. Scrap lumber, old shingles, drywall—even a small job can result in the fast accumulation of copious amounts of debris. This may not sound like a serious problem, but leftover building materials are unattractive and can even present serious safety hazards, making it difficult or even impossible to fully enjoy your property after the final nail has been hammered in. No construction project is ever truly complete until all traces of the building process have been removed from the premises. That's why R&R Dumpster & Roll-Off Service, Inc. is proud to extend our dumpster rental services to assist with construction site cleanup.
Email or call us now to receive a free estimate on a roll-off container for your construction cleaning project. We are perfect for contractors, homeowners, business managers, and others located in Augusta, Evans, and nearby municipalities who are in the market for an affordable dumpster to help with their construction cleaning services. R&R Dumpster & Roll-Off Service, Inc. has the sturdy containers and know-how to get your job done, so don't break a sweat cleaning construction debris yourself—put down that lumber and pick up the phone today!
Versatile Roll-Off Containers for Any Kind of Construction Cleaning
Whether you're looking for a dumpster rental to have on site throughout the duration of your new building construction or you need just want a short-term dumpster rental for post-construction cleaning at the end of the project, R&R Dumpster & Roll-Off Service, Inc. has the solution for you. We're the name to know for thorough workmanship, affordable rates, and punctual drop-offs and pickups.
Our dumpster services are ideal for construction cleaning projects involving: 
Lumber scraps
Drywall
Masonry
Shingles and other roofing materials
Plumbing, wiring, and fixtures
Appliances
Unlike some other dumpster rental companies, we are also equipped to remove hazardous materials, such as asbestos. Contact us for details!
Construction cleaning is a vital part of the property improvement and renovation process, so if you're interested in a reliable, professional cleanup service, contact R&R Dumpster & Roll-Off Service, Inc. today. We have more than 15 years of experience and stand out from the competition because of our emphasis on honest pricing and willingness to provide customers with services tailored to meet their specific needs. Just let us know if you have concerns regarding the treatment of your property or if you are working under a strict time constraint—no matter what your particular concerns may be, the dumpsters from R&R Dumpster & Roll-Off Service, Inc. will be able to accommodate your construction cleanup needs.
We are a family-owned company with low overhead and a dedication to completing each project with efficient workmanship and respect for you. We have the equipment and the know-how necessary to provide you with prompt construction cleanup service. Call or email us, and let us help you make your property beautiful and safe.