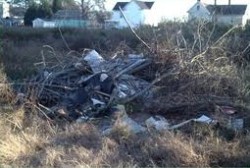 In order to ensure that you continue to enjoy a safe, beautiful property, it is important not to overlook the importance of regular exterior maintenance. That is why the experts at R&R Dumpster & Roll-Off Service, Inc. extend our trash services to include yard waste removal. Customers from all over Augusta and the Central Savannah River Area who are looking for a way to clear their grounds of unwanted items such as bagged leaves, clippings, branches, and other lawn waste can expect efficient service and individualized attention when they call our professional yard waste disposal team. We are available for both one-time yard waste collection (such as following a storm) or for routine yard waste pickup. For more than 15 years, yard waste removal has been not only a way for us to make a living—it has also been our way of helping keep homes and businesses throughout Augusta and beyond looking their very best.
In addition to helping owners maintain the aesthetics of their properties, prompt yard waste collection provides a variety of additional benefits, including:
Safety—Allowing items such as downed branches, twigs, and other debris to sit in your yard invites a variety of hazards, such as tripping and falling risks, the possibility of being cut, and more. Protect yourself, your family, and your guests from these obstacles with professional yard cleanup services.
Health—Seasonal and environmental allergies can be exacerbated with the continued presence of excessive outdoor waste. Yard debris removal can make a dramatic and immediate difference for people who suffer from allergies, asthma, and other breathing-related illnesses.
Infestation protection—Shrub clippings, wood piles, and the like are a magnet for pests such as mosquitoes, bees, termites, and other insects. These can threaten not only personal comfort, but could also cause serious property damage over time.
Reputation—Remember, yard debris removal doesn't just keep your property looking good for your benefit—it also affects the way you are perceived by others. Maintaining your public image is especially important for businesses. Professional yard waste pickup is essential to keeping your property presentable without forcing you to take time out of your busy schedule to perform the job yourself.
Our family-owned company operates around the belief that every customer is unique and deserves the benefit of service that is tailored to address their specific needs. For a free estimate or to hear more details about our yard cleanup services, please don't hesitate to contact R&R Dumpster & Roll-Off Service, Inc. via e-mail or phone at your earliest convenience. Whether you're in the market for one-time or routine yard waste collection, you can be certain that you will never receive anything less than cost-efficient service from professionals who take pride in their work and are dedicated to your satisfaction.