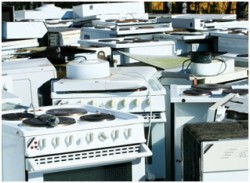 Trash removal may seem like a simple task, but some projects, such as appliance disposal or a real-estate cleanout, pose a variety of obstacles. Special considerations and resources may be required in order to avoid fines or property damage, and attempting to move heavy or cumbersome objects could even present a threat to your physical well-being. Luckily, property owners in the Augusta, Georgia, area who are faced with large-scale trash removal tasks have an alternative to amateur labor: R&R Dumpster & Roll-Off Service, Inc.
Our team of professional trash haulers can help you sort through even the biggest messes and remove trash of all varieties, even asbestos, tires, and other hazardous materials that other garbage removal companies are not equipped to handle.* While every job poses its own set of challenges, our dedication to efficient workmanship and comprehensive customer care never wavers. Our goal is to ensure that you are left with a clean, safe space that looks beautiful and is ready to be used to its full potential. Whether you're in the midst of a transition such as a renovation or you simply want to remove trash that has accumulated in sheds and closets, R&R Dumpster & Roll-Off Service, Inc. can help. Call or e-mail us today for a free estimate or to get same-day dumpster delivery.
Our customers are able to choose between dumpster rental and full-service garbage removal options. We even provide convenience dump and replace service for larger jobs. Regardless of your particular needs and demands, you will receive speedy service from trash haulers who are willing to do whatever may be necessary to ensure that your project is a success. Get the backup you need for easy, cost-effective trash removal: Pick up the phone and call the R&R Dumpster & Roll-Off Service, Inc. team today. Our services are perfect for:
Estate cleanouts
Rental property cleanouts
Spring cleaning
Move in/out cleaning
Furniture disposal
Appliance disposal
Remodeling
And more!
Our trash haulers have more than 15 years of experience and are able to offer clients what so many companies cannot: the benefit of workers who are genuinely concerned with customer satisfaction and who take pride in their work. Home- and business owners local to Augusta and the CSRA should contact us by e-mail or phone for professional, prompt trash removal services.
Foreclosure Cleanouts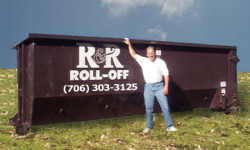 Foreclosure is a difficult process, and as a result of hasty departures and other mitigating circumstances, many of these properties are left a real mess when the former owners have moved out. If you're trying to get a foreclosed property ready to go on the market, don't just take one look at that mess and then run in the other direction! Enlist the help of R&R Dumpster & Roll-Off Service, Inc. instead. We will get right to work collecting and removing the debris, helping prepare the property to be presented to potential buyers. We can handle anything, from appliance and furniture disposal to assorted junk removal services. We'll even leave the property broom swept when we're done! Your affordable solution for efficient, effective foreclosure cleanouts and garbage removal, R&R Dumpster & Roll-Off Service, Inc. can turn even a disaster into a marketable property faster than you thought possible.
Garbage Collection
While many customers need our help to remove trash from their home or business on a one-time basis, others are interested in taking advantage of our regular garbage collection services. Our delivery and pickup is prompt and reliable. All garbage collection needs differ in terms of duration and volume, but our integrity and quality workmanship remain constant from customer to customer. Your simple solution for complete garbage and rubbish removal in Columbia County, our team can help you handle practically any property cleanup project. For more details or to get your free estimate on trash removal services, call or e-mail our professionals now.   
*We do not provide trash removal for dirt or concrete materials at this time.