Pressure Washing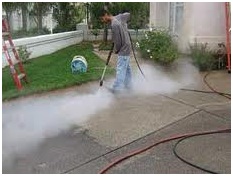 Have you noticed that your deck or siding looks a little grimy? Are your sidewalks stained or your driveway green? Has your home or business lost a little bit of its shine, but you can't pinpoint exactly what's making your property look dingy? If you answer "yes" to any of these questions, all you may need is a bit of help from a power washing contractor! At R&R Dumpster & Roll-Off Service, Inc., we're pleased to offer pressure washing services in addition to our trash removal and garbage collection options. When you bring in our professionals to pressure wash houses, businesses, and structures of all kinds, we can blast away built-up grit and grime to get your property looking neat and clean again fast.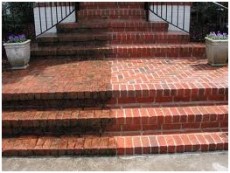 Over time, dirt, pollen, and other environmental particles can accumulate on the exterior surfaces of your home or business. In most cases, this film is harmless, but it can create a grayish, dull, or dingy look that prevents your building from looking its best. And that's where R&R Dumpster & Roll-Off Service, Inc. can help. If you've noticed that your white siding looks gray, your brick has taken on a slightly greenish cast, or your deck has dulled with age, our power washing services are for you! Our team has the skills and specialized pressure washing tools to safely and effectively blast away the microscopic debris coating your home's exterior surfaces, revealing the clean, beautiful materials underneath. Call R&R Dumpster & Roll-Off Service, Inc. when you need pressure washing services for:
Driveways
Walkways
Sidewalks
Brick and masonry
Siding
Decks
Patios
And other surfaces
When it comes to pressure washing houses, the process is typically quite straightforward. Our pros will bring in our power washer equipment, hook up to your water source, and then methodically and precisely blast away the grime! With more than 15 years of experience as professional power washing contractors, we have the expertise you can rely on to completely clean the surface at hand, all the while protecting it from damage and other amateur mistakes. Providing customers throughout the Augusta region with a fast, hassle-free way to help their homes and businesses look clean and attractive, R&R Dumpster & Roll-Off Service, Inc. is your answer for superior customer service and affordable power washing service.
To get started or for more information about pressure washing service and your property, feel free to call or e-mail us today.
Power Washing
Pressure Cleaning
Powerwashing
Power Washing Business
Pressure Washing Business
Pressure Wash
Power Wash
Exterior Cleaning
Pressure Washing Services